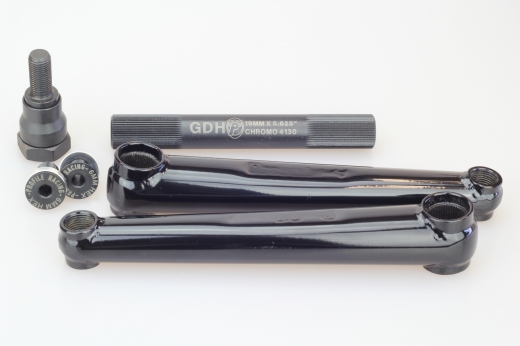 Fixed No Boss Crankset
RRP £199.99
Fixed/Track crankset is the Profile Racing NoBoss cranks. They are exactly the same as our Race Cranks, with the sole exception that they lack a boss to bolt a sprocket onto them. They require you to run a Spline Drive Sprocket or Spider/Chainring. the Spline drive set up is a much more powerful drive rather than the bolted set up, so great for fixed riding.

The crank kit comes with crank arms, a CrMo Gun Drilled Hollow 19mm 48 spline bottom bracket spindle, 6mm CrMo GDH Crank Bolts, and a Profile Crank Install tool.

Bottom Brackets are sold separately.

Technical information
Brand: Profile Racing
Category: Fixed
Crank Colour: Black, Chrome
Crank Length: 145mm, 160mm, 165mm, 170mm, 175mm, 180mm
Spindle Upgrade: 5 1/4", 5 5/8"
Tell your friends