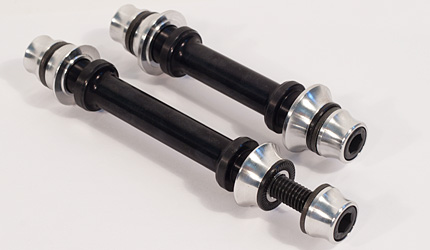 Fixed True 3/8 Axle Conversion Kit
RRP £69.75
The Profile Fixed True 3/8" (10mm) axle upgrades are now available. Based on our BMX Mini Front axle, they are stiffer, stronger, and are simply the way to go if you plan on doing any sort of Fixed Gear Freestyling. The aluminium cone spacers have a knurled, case-hardened CrMo washer pressed into them, meaning that these will probably never slip in your dropout.
The True 3/8" axles are a real performance upgrade to your Profile hubs, a difference in stiffness that you can feel. they do come at a slight weight penalty, however.Standard Front axle setup: 3.6oz (104g)

True 3/8 Front axle setup: 3.8oz (106g)Standard Rear axle setup: 3.6oz (104g)
True 3/8 Rear axle setup: 4.2oz (120g)

If you upgrade to Ti axle bolts, you'll save 20g per axle.

The True 3/8" (10mm) axles will fit in virtually all frame dropouts/track ends. They will fit in any BMX style fork, such as FBM, Volume, or Milwaukee, as well. You might have to do some filing or grinding on other forks to get the True 3/8 axles to fit- measure your fork prior to ordering. Filing a dropout will void most if not all warranties, and is potentially dangerous. Be very careful, and if you don't know what you're doing, DON'T DO IT YOURSELF. Take it to a trained bike mechanic, he can tell you if it's safe to modify your fork. If there's any doubt in your mind, DON'T DO IT. If your fork should break, while you're riding, there's a good chance you'll get broken too, somehow.
Technical information
Axle: Front 10mm, Rear 10mm 120mm, Rear 10mm 130mm
Brand: Profile Racing
Tell your friends